What I love about DuckDuckGo
Last year I decided to ditch Google as my preferred search engine. I moved over to DuckDuckGo as my search engine of choice inside all my browsers (Firefox on desktop and Safari on iPhone). At first I wasn't sure if this was a good choice. But I pushed myself to try it for a week to see how it's working. And to my surprise I forgot that I changed my search engine really fast. The search results were still really great and knowing that DDG didn't track everything was even better. DDG says that they don't collect any personal data and don't track people with ads. The companies business model is offering ads but not super personalized, it's keyword based.
James Temperton's Wired article I Ditched Google for DuckDuckGo. Here's Why You Should Too | WIRED also picks up the typical use of search engines. Most of the time one is searching for easy stuff that pretty much any search engine could handle. But on top of those easy search results DuckDuckGo offers a lot more goodies I don't want to miss anymore.
Search does not leak information to sites in HTTP referrer header DDG redirects you to sites without sending the search terms with your website request. There is also the chance to use POST request or proxies to connect to those sites (Check out DDGs settings). But because there are drawbacks with those methods the standard way is to redirect you via DDG servers. They say that they don't even store any informations about one's personal information like User agent, IP address or screen resolution so it is not possible to identify one with those more or less unique factors.
Your favorite bang commands will be stored in a cookie but in such a way that this cannot be used to track you. The example on the privacy page is the large size setting it is stored in a cookie like s=l.
The first thing that DDG suggested me to use is their Privacy Essential Add-on for browsers (also available as a browser on mobile) which blocks tracker by default. The add-on also has HTTPSEverywhere built in which redirects you to the encrypted HTTPS site if available when visiting a website.
More info about that add-on:
DuckDuckGo provides a lot of cool features. I will talk about my most favorite ones in the following:
I use those Bang commands everyday. When I want to search for a specific term on a specific site. For example if I want to search for the otter article on Wikipedia I can easily type !w Otter and DDG will redirect me to the Wikipedia article of otters 🦦. Or when I'm looking for a specific GitHub repository I will just use !gh gatsby-starter-julia (shameless plug).
At the time of writing (June 2020) there are 13505 bangs available for pretty much every site. You can find them at DuckDuckGo !Bang
Try the otter example: https://duckduckgo.com/?q=!w+otter
For all the more security focused people who are into secure passwords. DDG provide a very handy function to generate a secure random password just search for the term random password 10 strong where 10and strong are optional. The result will also tell you how "good" the generated password is.
Try it: random password 10 strong at DuckDuckGo
When I'm searching for a repository on DDG I will often get it's GitHub quick access feature. This is pretty handy if you are looking for the place where the repository is hosted.
When searching for weather and your city or place DDG will show you the weather forecast for it. The weather is provided by the Dark Sky API. I hope that won't change since Apple recently bought Dark Sky and shut down a couple things because of the Dark Sky API (Can someone please tell me?).
Yeah I know weather doesn't look good right now around here.
The future of DuckDuckGo is looking really bright. In only three years the queries went from around 13 million per day to more than 50 million per day (June 3rd). So they broke 50 million requests just yesterday. I really love to see this. You can take a look at DDGs traffic stats at DuckDuckGo Traffic.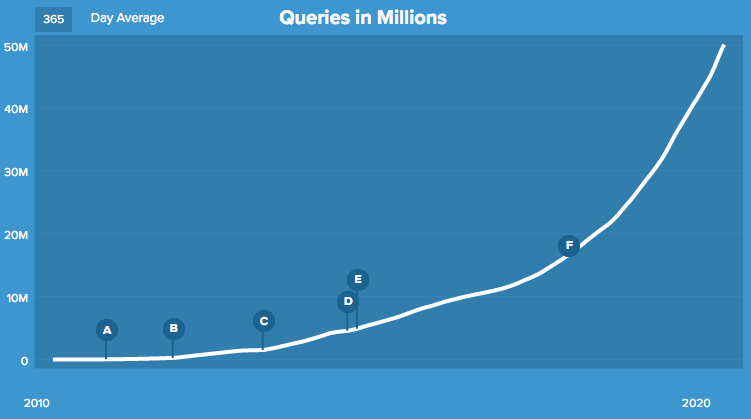 I really got to love DuckDuckGo in the last year and don't want to move back to Google as my primary search engine. The Bang commands are still a choice to use if i'm not perfectly happy with DDG's search result to check Google for a solution. I can only tell everyone to try DDG for a couple of days to see if the results are good enough for one.
Have a great time and thanks for reading,
Niklas
See also: DuckDuckGo Blog
P.S.: If duckduckgo.com is a too long URL, they received duck.com from Google late 2018.